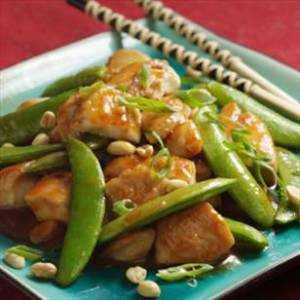 Spicy Chinese style chicken that also works perfectly with shrimp, tofu or beef.
| Servings | Prep Time | Cook Time |
| --- | --- | --- |
| 4 | 5 mins | 25 mins |
Directions
| | |
| --- | --- |
| 1. | Combine chicken, rice wine (or sherry), soy sauce, cornstarch and garlic in a medium bowl; mix thoroughly. |
| 2. | When stir-frying chicken, always spread the pieces in the wok and let them cook undisturbed for 1 minute before stirring. This allows the chicken to sear and prevents sticking. To smash the ginger, use the side of a cleaver or chef's knife. |
| 3. | Heat a 14" flat-bottomed wok or large skillet over high heat until a bead of water vaporizes within 1 to 2 seconds of contact. Swirl oil into the pan, add ginger and stir-fry for 10 seconds. |
| 4. | Carefully add the chicken mixture, spreading it out. Cook until the chicken begins to brown, about 1 minute. |
| 5. | Using a spatula, stir-fry for 30 seconds. Spread the chicken out again and cook for 30 seconds. Continue stir-frying until the chicken is lightly browned on all sides, 1 to 2 minutes. |
| 6. | Add snap peas and stir-fry for 1 minute. Stir the Sichuan Sauce, swirl it into the pan and stir-fry until the chicken is just cooked through and the sauce is slightly thickened and glossy, 30 seconds to 1 minute. |
| 7. | Transfer to a platter (discard the ginger) and sprinkle with peanuts and scallions. Serve immediately. |
| 8. | Note: Shao Hsing (or Shaoxing) is a seasoned rice wine. It is available in most Asian specialty markets and some larger supermarkets in the Asian section. An acceptable substitute is dry sherry, sold with other fortified wines in your wine or liquor store. (It is preferred to the "cooking sherry" sold in many supermarkets, which can be surprisingly high in sodium.) |
Nutrition summary
There are 225 calories in 1 serving of Sichuan-Style Chicken with Peanuts.
Calorie split: 35% fat, 12% carbs, 53% protein.
Nutrition Facts
Amount Per Serving
Calories
224
% Daily Values*
Total Fat
8.52g
11%
Saturated Fat
1.377g
7%
Trans Fat
0g
Polyunsaturated Fat
1.041g
Monounsaturated Fat
2.064g
Cholesterol
65mg
22%
Sodium
179mg
8%
Total Carbohydrate
6.61g
2%
Dietary Fiber
1.3g
5%
Sugars
2.02g
Protein
28.51g
Vitamin D
-
Calcium
3mg
0%
Iron
0.07mg
0%
Potassium
15mg
0%
Vitamin A
2mcg
0%
Vitamin C
0.8mg
1%
Related Recipe Collections
Related Recipes
Chicken Stir Fry
Chicken, carrots, mushrooms and broccoli in a spicy sauce.
Per serve - Energy: 306kcal | Carb: 39.22g | Prot: 20.00g | Fat: 8.51g
Chicken Cordon Bleu Casserole
Just like the real thing only creamier and not fried.
Per serve - Energy: 216kcal | Carb: 6.50g | Prot: 19.39g | Fat: 12.44g
Hellman's Juicy Chicken Breast
Simple weeknight chicken breast that pairs perfectly with a side salad or California blend vegetables.
Per serve - Energy: 269kcal | Carb: 5.14g | Prot: 27.06g | Fat: 16.16g
Spicy Thai Peanut Chicken over Rice
This is a very tasty Asian-inspired dish made with chicken and broccoli in a spicy peanut sauce.
Per serve - Energy: 261kcal | Carb: 23.41g | Prot: 22.00g | Fat: 9.73g