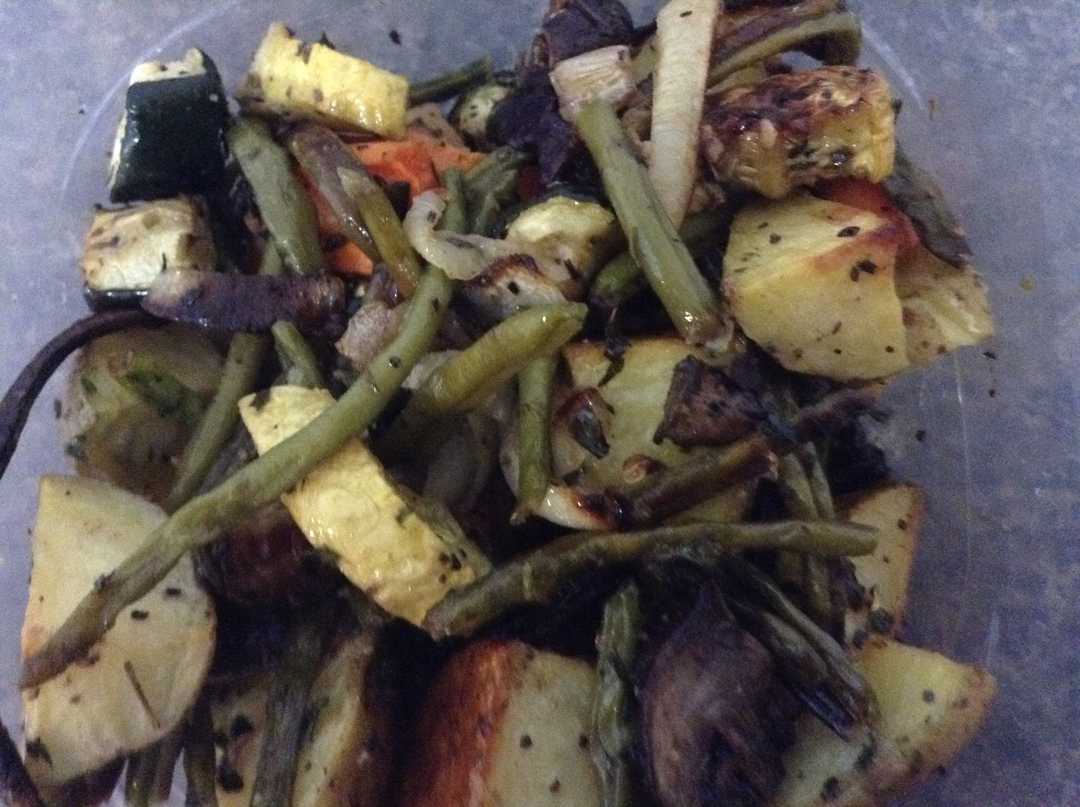 Savory Roasted Vegetables
A great side dish that uses up the vegetables in your fridge or serve over brown rice or whole wheat couscous to make a hearty vegan meal.
| Servings | Prep Time | Cook Time |
| --- | --- | --- |
| 8 | 15 mins | 40 mins |
Directions
| | |
| --- | --- |
| 1. | Preheat over to 400 °F (205 °C). Wash all vegetables and cut/cube to even 1" pieces, carrots cut diagonally and leave the green beans whole. |
| 2. | Pour all vegetables into a very large bowl. Add olive oil over the bowl and drop in the dry seasonings. Mix well using clean hands or a large wooden spoon. |
| 3. | Spread raw vegetables evenly on two, 15"x20" baking sheets. Add both pans to oven and roast for 20 minutes. Give vegetables a stir with wooden spoon and switch the rows for the pans. Roast another 20-25 minutes. Check potatoes with fork as indicator of cooked. When potatoes are ready, so is everything else. |
| 4. | Note: No green beans? Use broccoli. Only one yellow squash? Toss in a cubed eggplant instead. Looking for Moroccan flavor? Ditch the steak seasoning for Garam Masala. Extremely tasty and versatile recipe. |
Nutrition summary
There are 179 calories in 1 serving of Savory Roasted Vegetables.
Calorie split: 35% fat, 55% carbs, 10% protein.
Nutrition Facts
Amount Per Serving
Calories
179
% Daily Values*
Total Fat
7.22g
9%
Saturated Fat
1.046g
5%
Trans Fat
0g
Polyunsaturated Fat
1.102g
Monounsaturated Fat
5.016g
Cholesterol
0mg
0%
Sodium
156mg
7%
Total Carbohydrate
25.62g
9%
Dietary Fiber
4.4g
16%
Sugars
5.25g
Protein
4.88g
Vitamin D
-
Calcium
19mg
1%
Iron
0.37mg
2%
Potassium
754mg
16%
Vitamin A
160mcg
18%
Vitamin C
16.2mg
18%
Related Recipe Collections
Related Recipes
Lentil Bolognese
A high fiber, vegan, and vegetarian alternative to bolognese. Serve with brown pasta and a side of salad for a balanced meal. NOTE: Use 2 x 14 oz cans of lentils, rinsed and drained to obtain a total of roughly 2.5 cups of lentils. Store leftover bolognese in the freezer for a quick and easy meal.
Per serve - Energy: 288kcal | Carb: 44.13g | Prot: 15.70g | Fat: 8.00g
Bang Bang Shrimp Salad
Delicious and hearty dish.
Per serve - Energy: 305kcal | Carb: 24.43g | Prot: 39.01g | Fat: 6.59g
Vegetarian Taco Meat
Quick, hassle-free dish for dinner.
Per serve - Energy: 85kcal | Carb: 12.16g | Prot: 4.60g | Fat: 2.84g
Garden Vegetable Soup
Low-calorie homemade soup, loaded with nutrients.
Per serve - Energy: 76kcal | Carb: 14.72g | Prot: 2.13g | Fat: 1.17g
Autumn Vegetables
Healthy, vegan side dish.
Per serve - Energy: 118kcal | Carb: 20.03g | Prot: 3.31g | Fat: 3.41g