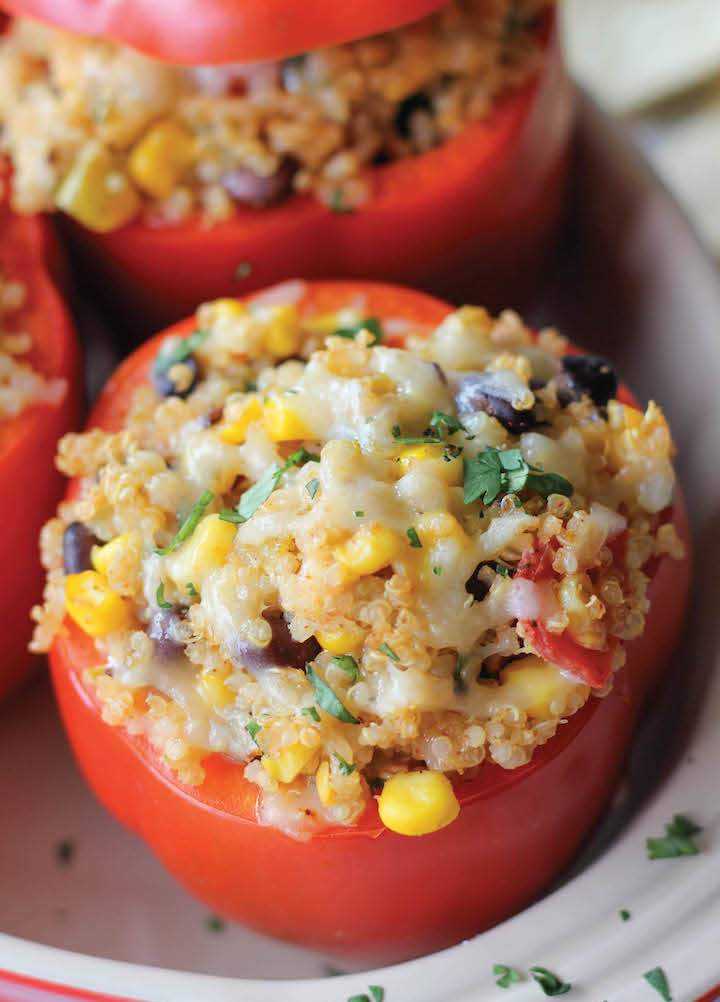 Quinoa Stuffed Bell Peppers
These stuffed bell peppers will provide the nutrition that you need for a healthy balanced meal.
| Servings | Prep Time | Cook Time |
| --- | --- | --- |
| 6 | 30 mins | 25 mins |
Directions
| | |
| --- | --- |
| 1. | Preheat oven to 350 °F (175 °C). Line a 9"x13" baking dish with parchment paper. |
| 2. | In a large bowl, combine quinoa, green chilies, corn, beans, tomatoes, cheeses, cilantro, cumin, garlic, onion, chili powder and salt and pepper to taste. |
| 3. | Remove the tops, stems and seeds from the peppers. Spoon the filling into each bell pepper cavity. Place in baking dish, cavity side up and bake until the peppers are tender and the filling is heated through, about 25-30 minutes. |
| 4. | Notes: monterey jack cheese can be used instead of pepper jack. You can use petite diced tomatoes instead of fresh if desired. You can use more or less chili powder to suit your taste. You can use the extra filling for tacos or burritos with a protein or by itself. You can use it as a "dip" with tortilla chips. |
Nutrition summary
There are 242 calories in 1 serving of Quinoa Stuffed Bell Peppers.
Calorie split: 23% fat, 61% carbs, 17% protein.
Nutrition Facts
Amount Per Serving
Calories
242
% Daily Values*
Total Fat
6.46g
8%
Saturated Fat
2.712g
14%
Trans Fat
0g
Polyunsaturated Fat
1.212g
Monounsaturated Fat
1.421g
Cholesterol
12mg
4%
Sodium
398mg
17%
Total Carbohydrate
38.66g
14%
Dietary Fiber
7.1g
25%
Sugars
6.49g
Protein
10.66g
Vitamin D
-
Calcium
110mg
8%
Iron
4.06mg
23%
Potassium
149mg
3%
Vitamin A
223mcg
25%
Vitamin C
230.9mg
257%
Related Recipe Collections
Related Recipes
Mediterranean Pasta Salad
A refreshing pasta salad with unique flavor combinations.
Per serve - Energy: 251kcal | Carb: 17.36g | Prot: 13.03g | Fat: 14.59g
Mixed-Veggie Soup
Warm and delicious vegetable soup. Ideal for weight loss.
Per serve - Energy: 72kcal | Carb: 9.50g | Prot: 3.53g | Fat: 2.75g
Goat Cheese Pizza with Red Pepper & Spinach
A favorite for pizza (cheat) night. Cheat because sodium and carb level are a bit high, but we all desire a weekly cheat night.
Per serve - Energy: 403kcal | Carb: 32.57g | Prot: 19.73g | Fat: 22.17g
Green Chili Cheeseburger
Most fast-food burgers' calories are rising up. This recipe uses a lean and tasty cut of beef, and uses flavor-packed condiments.
Per serve - Energy: 270kcal | Carb: 30.24g | Prot: 17.70g | Fat: 9.38g
Roasted Tomato Canoes
As an appetizer or light entree these are delicious.
Per serve - Energy: 164kcal | Carb: 12.66g | Prot: 5.42g | Fat: 10.69g