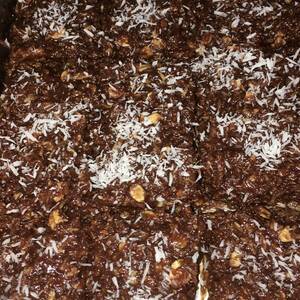 Ingredients
Directions
Put protein, oats, honey and peanut butter.
Cut strawberries and put them in the mix and put the water.
Mix them and when done put coconut on top.
Put in fridge.
Nutrition summary
There are 83 calories in 1 serving of Protein Dessert.
Calorie split: 33% fat, 48% carbs, 19% protein.
Related Recipe Collections
Related Recipes
Strawberry Cheesecake
A delicious dessert that kinda makes you forget that you are on a diet.
Per serve - Energy: 276kcal | Carb: 21.49g | Prot: 7.63g | Fat: 18.59g
Strawberry Protein Smoothie
A yummy protein drink using real strawberries
Per serve - Energy: 439kcal | Carb: 22.95g | Prot: 78.62g | Fat: 7.88g
Breakfast Parfait
Creates a visually stunning, delicious and healthy breakfast.
Per serve - Energy: 340kcal | Carb: 72.08g | Prot: 12.13g | Fat: 3.52g
Strawberry Breakfast Smoothie
A wonderful tasting and very filling smoothie.
Per serve - Energy: 240kcal | Carb: 44.79g | Prot: 7.09g | Fat: 4.80g