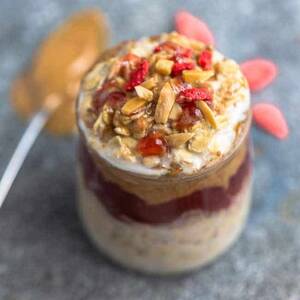 Ingredients
Directions
Combine ingredients.
Put in fridge overnight.
Eat.
Nutrition summary
There are 363 calories in 1 serving of PB&J Overnight Oats.
Calorie split: 33% fat, 55% carbs, 12% protein.
Related Recipe Collections
Related Recipes
Mixed Fruit Smoothie
A full of fruit and protein breakfast smoothie.
Per serve - Energy: 343kcal | Carb: 61.21g | Prot: 19.08g | Fat: 5.92g
Baked Oatmeal
A family favorite and healthy way to add oatmeal to your diet.
Per serve - Energy: 363kcal | Carb: 62.62g | Prot: 16.83g | Fat: 5.51g
Islander Buckwheat Porridge
A simple, no fail staple recipe that's super healthy and gluten free.
Per serve - Energy: 374kcal | Carb: 59.17g | Prot: 7.55g | Fat: 14.47g
Apple Walnut Oatmeal
Whole rolled oats, apple juice and raisins.
Per serve - Energy: 305kcal | Carb: 42.61g | Prot: 9.43g | Fat: 12.56g
Strawberry Banana Soy Smoothie
A super scrumptious simple and quick smoothie that fills you up.
Per serve - Energy: 236kcal | Carb: 46.10g | Prot: 9.60g | Fat: 3.97g
Carrot, Celery and Apple Juice
A yummy juice packed with vitamins and low on points.
Per serve - Energy: 341kcal | Carb: 86.07g | Prot: 4.63g | Fat: 1.61g