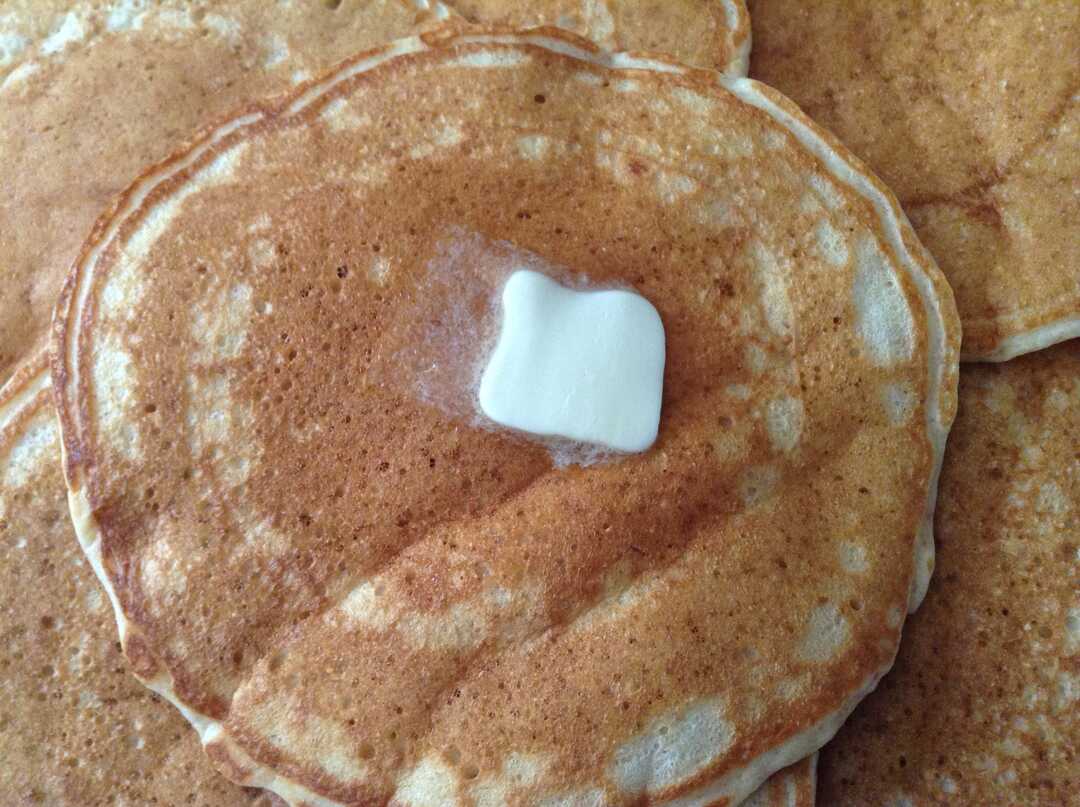 'My'Hop Whole Wheat Pancakes
A homemade version of what used to be a weekend favorite restaurant.
| Servings | Prep Time | Cook Time |
| --- | --- | --- |
| 4 | 10 mins | 20 mins |
Directions
| | |
| --- | --- |
| 1. | Preheat lightly oiled/well-sprayed griddle or large skillet to medium-low heat, 275 °F (135 °C). Also preheat oven to 200 °F (95 °C) if you will be holding them for a while. |
| 2. | Whisk all dry ingredients in a very large bowl. Make a well in the center of the ingredients. |
| 3. | Whisk wet ingredients in a smaller bowl. Pour into the well of the larger bowl. Whisk until fairly smooth. (Add up to another 1/4 cup of milk or water to make batter medium thickness and pourable). Let it sit for a few minutes. |
| 4. | Pour scant 1/2 cup batter onto center of skillet. |
| 5. | Cook pancake until small bubbles (or holes) seem to sit on the center of the cake without much bursting. Also, the edges of the cake should look somewhat dry. Now, you're ready to flip. |
| 6. | The second side of the cake will cook in nearly half the time of the first so keep your eyes on the pan. You'll see steam from the skillet and you'll know the pancake is cooked through. |
| 7. | Hold cooked pancakes in a warm oven or serve immediately. |
| 8. | Note: Try adding to the batter chopped nuts or fresh fruit. They are great plain but also try with pure maple syrup, agave nectar, warm fruit compote or preserves and even fresh fruit with fresh whipped cream. |
Nutrition summary
There are 299 calories in 1 serving of 'My'Hop Whole Wheat Pancakes.
Calorie split: 41% fat, 46% carbs, 13% protein.
Nutrition Facts
Amount Per Serving
Calories
299
% Daily Values*
Total Fat
13.19g
17%
Saturated Fat
3.75g
19%
Trans Fat
0g
Polyunsaturated Fat
2.062g
Monounsaturated Fat
4.188g
Cholesterol
59mg
20%
Sodium
645mg
28%
Total Carbohydrate
33.5g
12%
Dietary Fiber
3.6g
13%
Sugars
7.12g
Protein
9.12g
Vitamin D
-
Calcium
-
Iron
-
Potassium
8mg
0%
Related Recipe Collections
Related Recipes
Cream of Mushroom Soup
A delicious soup perfect for cold nights.
Per serve - Energy: 191kcal | Carb: 11.79g | Prot: 8.11g | Fat: 14.25g
Almond and Coconut Bread
A moist and fluffy bread without refined sugars.
Per serve - Energy: 273kcal | Carb: 10.11g | Prot: 8.57g | Fat: 23.11g
Oat Cookies
A low-sugar, low-cholesterol treat.
Per serve - Energy: 109kcal | Carb: 7.94g | Prot: 3.48g | Fat: 7.44g
Morning Glory Breakfast Cookie
A healthy, grab-and-go breakfast loaded with flavors.
Per serve - Energy: 303kcal | Carb: 20.57g | Prot: 6.06g | Fat: 24.00g
Apple Protein Muffins
A yummy and moist bread perfect as post-workout snack.
Per serve - Energy: 122kcal | Carb: 21.90g | Prot: 6.07g | Fat: 1.66g
Protein Muffins
The perfect snack to boost energy.
Per serve - Energy: 113kcal | Carb: 19.30g | Prot: 6.31g | Fat: 1.68g