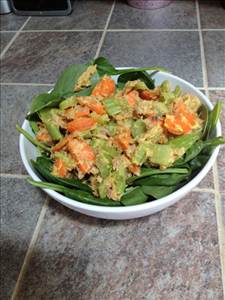 Mustard Tuna Salad
A fresh summer recipe.
Servings: 2
Prep Time: 10 mins
Average Rating:
Ingredients
Directions
Chop carrots and celery and put in medium sized bowl.
Drain tuna from water and put in a bowl with carrots and celery.
Add mustards on top and mix well.
Put baby spinach in a bowl or on plate and top with the tuna salad mixture.
Nutrition summary
There are 105 calories in 1 serving of Mustard Tuna Salad.
Calorie split: 5% fat, 40% carbs, 55% protein.
Related Recipe Collections
Related Recipes
Tuna Salad IV
Tuna with cream cheese.
Per serve - Energy: 140kcal | Carb: 1.46g | Prot: 17.01g | Fat: 6.76g
Salmon Cobb Salad
Fish makes this super easy cobb salad.
Per serve - Energy: 334kcal | Carb: 9.32g | Prot: 31.60g | Fat: 18.91g
Spicy Tuna Salad II
Tuna salad with Chile Serrano.
Per serve - Energy: 124kcal | Carb: 1.93g | Prot: 24.49g | Fat: 1.02g
Fish Stew Brodetto
Broth based fish stew.
Per serve - Energy: 282kcal | Carb: 17.01g | Prot: 24.02g | Fat: 9.19g