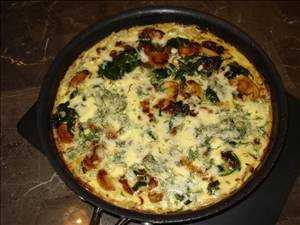 Mushrooms and Spinach Quiche
Lightened up version of a favorite classic recipe.
| Servings | Prep Time | Cook Time |
| --- | --- | --- |
| 4 | 30 mins | 30 mins |
Directions
| | |
| --- | --- |
| 1. | Pre-heat oven to 400° F (200° C). Shred the potato and cheese, set cheese aside. |
| 2. | Spray a 9-inch glass or ceramic pie dish with non-stick spray (like Pam). Toss potatoes with 1 teaspoon oil and about 1/8 tsp each salt and pepper. |
| 3. | Press into an even layer in pie dish, up the sides like a crust. Bake until golden brown at the edges and dry, about 20 minutes. Let cool. |
| 4. | While the crust is baking, chop the onions and mushrooms, set aside. |
| 5. | After the crust is done baking, lower the oven to 325° F (160° C). . Heat 1/2 tbsp oil in a large skillet, preferably non-stick, over medium heat. Add onion and cook until softened and golden, about 5 minutes. Add remaining oil and mushrooms and cook, stirring, until mushrooms release their liquid and most of the liquid evaporates, about 8 minutes. Add spinach and 1/4 teaspoon each salt and pepper, and cook, stirring, just until spinach wilts, about 30 seconds. Let cool slightly. |
| 6. | Whisk together eggs, milk and remaining 1/8 teaspoon salt and pepper. Spread the mushroom mixture in an even layer in the pie dish, and top with an even layer of the cheese. Pour in egg mixture. |
| 7. | Bake until firm around the edges but still wobbly in the center, about 20 minutes. Let cool, and serve warm or at room temperature. |
| 8. | Note: you can also substitute other vegetables if you want some variety such as bell peppers and asparagus. Try substituting goat cheese or feta instead of gruyere for a salty kick of flavor. If you are watching the sodium, half the amount of salt, but keep all the pepper, it will still be very flavorful. |
Nutrition summary
There are 249 calories in 1 serving of Mushrooms and Spinach Quiche.
Calorie split: 44% fat, 35% carbs, 21% protein.
Nutrition Facts
Amount Per Serving
Calories
249
% Daily Values*
Total Fat
12.67g
16%
Saturated Fat
4.075g
20%
Trans Fat
-
Polyunsaturated Fat
1.425g
Monounsaturated Fat
6.098g
Cholesterol
172mg
57%
Sodium
467mg
20%
Total Carbohydrate
22.48g
8%
Dietary Fiber
3.9g
14%
Sugars
7.03g
Protein
13.16g
Vitamin D
2mcg
9%
Calcium
191mg
15%
Iron
2.74mg
15%
Potassium
694mg
15%
Vitamin A
305mcg
34%
Vitamin C
30.9mg
34%
Related Recipe Collections
Related Recipes
Chicken Stir Fry
Chicken, carrots, mushrooms and broccoli in a spicy sauce.
Per serve - Energy: 306kcal | Carb: 39.22g | Prot: 20.00g | Fat: 8.51g
Spinach & Mushroom Eggs
Eggs with frozen spinach and mushrooms.
Per serve - Energy: 102kcal | Carb: 2.61g | Prot: 7.40g | Fat: 7.07g
Healthy Shamrock Shake
A low carb version of your favorite McDonald's shake.
Per serve - Energy: 326kcal | Carb: 18.58g | Prot: 29.51g | Fat: 17.99g
Breakfast Smoothie IV
Smoothie with matcha, strawberry, pineapple, spinach and mango.
Per serve - Energy: 280kcal | Carb: 63.23g | Prot: 11.06g | Fat: 0.00g
Spinach Squares
Easy spinach squares that taste amazing.
Per serve - Energy: 145kcal | Carb: 6.49g | Prot: 9.65g | Fat: 9.79g