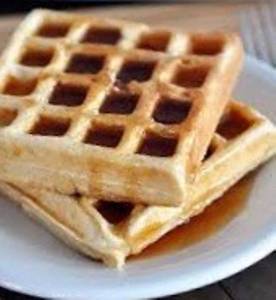 Keto Lazy Woman Waffles
Quick waffles.
Servings: 4
Prep Time: 5 mins
Cook Time: 5 mins
Average Rating:
Ingredients
Directions
Whisk eggs and mayonnaise until thoroughly incorporated.
Add Swerve and mix thoroughly.
Add all dry ingredients.
Let sit at least one minute (or cover and store in refrigerator).
Heat up waffle iron.
Cook for 1 1/2 minutes (alternatively, you can make pancakes).
Nutrition summary
There are 169 calories in 1 serving of Keto Lazy Woman Waffles.
Calorie split: 68% fat, 19% carbs, 14% protein.
Related Recipe Collections
Related Recipes
Pumpkin Pancakes II
Pumpkin and oats star in this autumn classic.
Per serve - Energy: 82kcal | Carb: 8.27g | Prot: 2.36g | Fat: 4.58g
Cream Cheese Biscuit
A very low carb breakfast muffin.
Per serve - Energy: 168kcal | Carb: 3.57g | Prot: 9.50g | Fat: 13.47g
Carbquik Biscuits
Easy biscuits for breakfast or anytime.
Per serve - Energy: 110kcal | Carb: 16.11g | Prot: 6.11g | Fat: 7.94g
Oat Pancakes II
Easy gluten free pancakes made with oats.
Per serve - Energy: 141kcal | Carb: 15.45g | Prot: 4.44g | Fat: 6.52g
Mock French Toast
A pancake looking Fench toast suitable for Atkins Induction and beyond.
Per serve - Energy: 114kcal | Carb: 5.23g | Prot: 4.72g | Fat: 8.18g
Low Carb Crepes
Thin crepe like pancakes that are good for Atkins.
Per serve - Energy: 38kcal | Carb: 0.91g | Prot: 2.37g | Fat: 2.84g