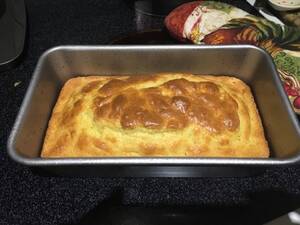 Keto bread
Bread with almond flour.
Servings: 22
Prep Time: 20 mins
Cook Time: 30 mins
Ingredients
Directions
Preheat oven to 375 °F (190 °C).
Separate yolks from whites.
Beat whites with cream of tartar.
Mix all the remaining ingredients in a food processor (butter should be melted).
Add 1/3 of beaten whites and mix well. That's the dough.
Mix dough with the rest 2/3 beaten whites, but do not over-mix, because that's what gives bread volume.
Butter 8x4" or 9" loaf pan, pour mixture and bake for 30 minutes. Check with toothpick to see if it's ready.
Enjoy your no guilt bread.
Nutrition summary
There are 83 calories in 1 serving of Keto bread.
Calorie split: 76% fat, 9% carbs, 16% protein.
Related Recipe Collections
Related Recipes
Macaroni & Cheese
Comfort food never tasted this good and without the extra calories.
Per serve - Energy: 291kcal | Carb: 35.87g | Prot: 14.16g | Fat: 9.78g
Jelly & Cream Dessert
A lovely carb friendly dessert that is easy to make and so nice!
Per serve - Energy: 141kcal | Carb: 8.42g | Prot: 1.95g | Fat: 12.40g
Jell-O Yogurt
Great tasting yogurt recipe that works well for South Beach.
Per serve - Energy: 156kcal | Carb: 21.10g | Prot: 12.91g | Fat: 3.52g
Low Fat Yogurt with Banana
Sweet and wholesome. Works well for breakfast, dessert or as a sweet treat.
Per serve - Energy: 248kcal | Carb: 42.93g | Prot: 13.21g | Fat: 3.91g
Almost Cheesecake
Grahm cracker topped with fat free strawberry cream cheese fresh blueberries and drizzle of honey.
Per serve - Energy: 158kcal | Carb: 31.66g | Prot: 5.22g | Fat: 1.84g