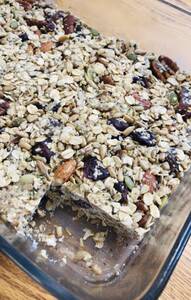 Ingredients
Directions
Mix all dry ingredients together.
In a saucepan melt coconut oil, add almond butter, and honey. Stir together and pour over dry ingredients. Mix well.
Grease an approximately 8x10" pan and press your mixture into the pan. Keep refrigerated.
Nutrition summary
There are 250 calories in 1 serving of Healthy Granola Bars.
Calorie split: 65% fat, 27% carbs, 8% protein.
Related Recipe Collections
Related Recipes
Fruit Smoothie
Low calorie version of a smoothie that will satisfy a sweet tooth without sending you into sugar shock. It's thick enough that it can be eaten as a sorbet.
Per serve - Energy: 145kcal | Carb: 21.49g | Prot: 9.16g | Fat: 3.83g
Apple and Coconut Muesli
A terrific combo of oats, nuts, honey, apples, coconut, wheat germ and yogurt to get your day kick started.
Per serve - Energy: 199kcal | Carb: 31.16g | Prot: 7.69g | Fat: 5.62g
Apple Pancakes
A breakfast treat.
Per serve - Energy: 230kcal | Carb: 40.48g | Prot: 6.97g | Fat: 4.79g
Apple Strudel
Homemade pastry and delicous fillings - what could be better.
Per serve - Energy: 289kcal | Carb: 55.95g | Prot: 6.09g | Fat: 5.13g
Low Fat Yogurt with Banana
Sweet and wholesome. Works well for breakfast, dessert or as a sweet treat.
Per serve - Energy: 248kcal | Carb: 42.93g | Prot: 13.20g | Fat: 3.91g
Apricot Chicken
Very tasty chicken with a great apricot sauce.
Per serve - Energy: 199kcal | Carb: 21.72g | Prot: 19.21g | Fat: 4.05g