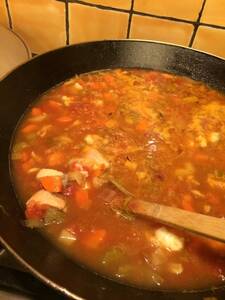 Fish Stew Brodetto
Broth based fish stew.
Servings: 6
Prep Time: 15 mins
Cook Time: 20 mins
Ingredients
Directions
Sauté chopped vegetables in oil on medium-high heat. Cook until soft, 5-10 minutes.
Add wine, broth and tomatoes. Bring to a boil then add the cubed raw fish. Cook over medium heat for 4-5 minutes or until fish looks opaque.
Take off heat and add parsley. Serve with a sprinkle of Parmesan cheese and a hearty piece of bread for a nice meal.
Nutrition summary
There are 282 calories in 1 serving of Fish Stew Brodetto.
Calorie split: 34% fat, 28% carbs, 39% protein.
Related Recipe Collections
Related Recipes
Samosa Pea Soup
A tasty pea soup with curry and vegetables.
Per serve - Energy: 135kcal | Carb: 21.92g | Prot: 7.72g | Fat: 2.37g
Salmon Cakes II
Salmon cakes made with canned salmon and no bread crumbs.
Per serve - Energy: 162kcal | Carb: 1.93g | Prot: 24.43g | Fat: 6.28g
Salmon Spinach Feta Quiche
Eggs and salmon provide a great protein mix together with vegetables and a little cheese.
Per serve - Energy: 107kcal | Carb: 5.00g | Prot: 12.56g | Fat: 4.08g
Salmon Salad Lettuce Wrap
Salmon with onions, carrots, capers and dressing in a lettuce wrap.
Per serve - Energy: 429kcal | Carb: 14.84g | Prot: 42.69g | Fat: 22.47g