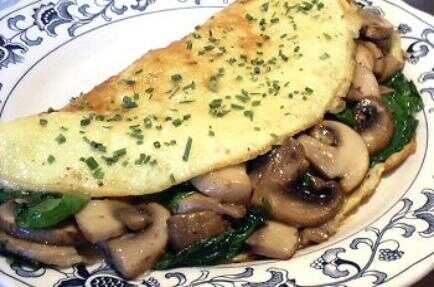 Egg White Omelet with Spinach, Onion & Mushroom
A tasty breakfast with protein and veggies.
| Servings | Prep Time | Cook Time |
| --- | --- | --- |
| 1 | 10 mins | 15 mins |
Directions
| | |
| --- | --- |
| 1. | Cut up mushrooms (around 4 small buttons), green onion and tear spinach. |
| 2. | Put 1 tablespoon of butter substitute in frying pan on medium-low heat. Let melt but keep moving around the pan. |
| 3. | Place the mushrooms and onions in the frying pan and cook until the mushrooms look done. (If presentation important, keep a few of the green onions off to the side, uncooked for garnish later). Once the mushrooms look done add the spinach and cook until the spinach is slightly wilted. |
| 4. | Remove the mushroom, onion and spinach mix and set aside for use in a few minutes. |
| 5. | Clean frying pan. Add a tablespoon of butter substitute and melt. Make sure to move it around the whole pan. |
| 6. | Add egg whites to the frying pan. Once it starts to change from clear to white, use a spatula to move it around, almost scrambling but making sure to have enough clear egg whites to fill any holes. Leave it for a few good minutes to let it harden. Add the garlic pepper. It is important to cook the egg whites slowly so it doesn't fall apart and comes off the frying pan easily. Once the egg whites are 100% cooked, use a spatula to pick up the edges and make sure it isn't sticking anywhere. |
| 7. | Add back the mushrooms, onions and spinach in the middle of the omelet and fold both sides into the middle. Let the omelet cook a minute and then slide it onto plate. |
| 8. | Garnish top of the omelet with the rest of the green onion (finely chopped) and enjoy! |
Nutrition summary
There are 339 calories in 1 serving of Egg White Omelet with Spinach, Onion & Mushroom.
Calorie split: 65% fat, 10% carbs, 24% protein.
Nutrition Facts
Amount Per Serving
Calories
339
% Daily Values*
Total Fat
23.37g
30%
Saturated Fat
10.246g
51%
Trans Fat
0g
Polyunsaturated Fat
3.449g
Monounsaturated Fat
6.516g
Cholesterol
30mg
10%
Sodium
554mg
24%
Total Carbohydrate
8.46g
3%
Dietary Fiber
3.5g
13%
Sugars
1.84g
Protein
19.69g
Vitamin D
1mcg
5%
Calcium
23mg
2%
Iron
0.78mg
4%
Potassium
521mg
11%
Vitamin A
26mcg
3%
Vitamin C
5.5mg
6%
Related Recipes
Potato and Leek Soup
Hearty winter soup that's very filling.
Per serve - Energy: 188kcal | Carb: 36.39g | Prot: 4.36g | Fat: 3.22g
Chicken and Sweetcorn Soup
The whole family will love this delicious hearty soup.
Per serve - Energy: 382kcal | Carb: 63.28g | Prot: 20.49g | Fat: 7.01g
Tomato and Red Lentil Soup
A lovely hearty tomato and red lentil soup that the whole family can enjoy.
Per serve - Energy: 264kcal | Carb: 34.03g | Prot: 12.01g | Fat: 10.52g
Minestrone Soup
Delicious minestrone makes for a hearty meal in itself.
Per serve - Energy: 219kcal | Carb: 40.11g | Prot: 11.19g | Fat: 2.18g
Curried Pumpkin Soup
Tasty and healthy pumpkin soup with a nice edge from the curry powder.
Per serve - Energy: 138kcal | Carb: 27.08g | Prot: 4.25g | Fat: 3.44g