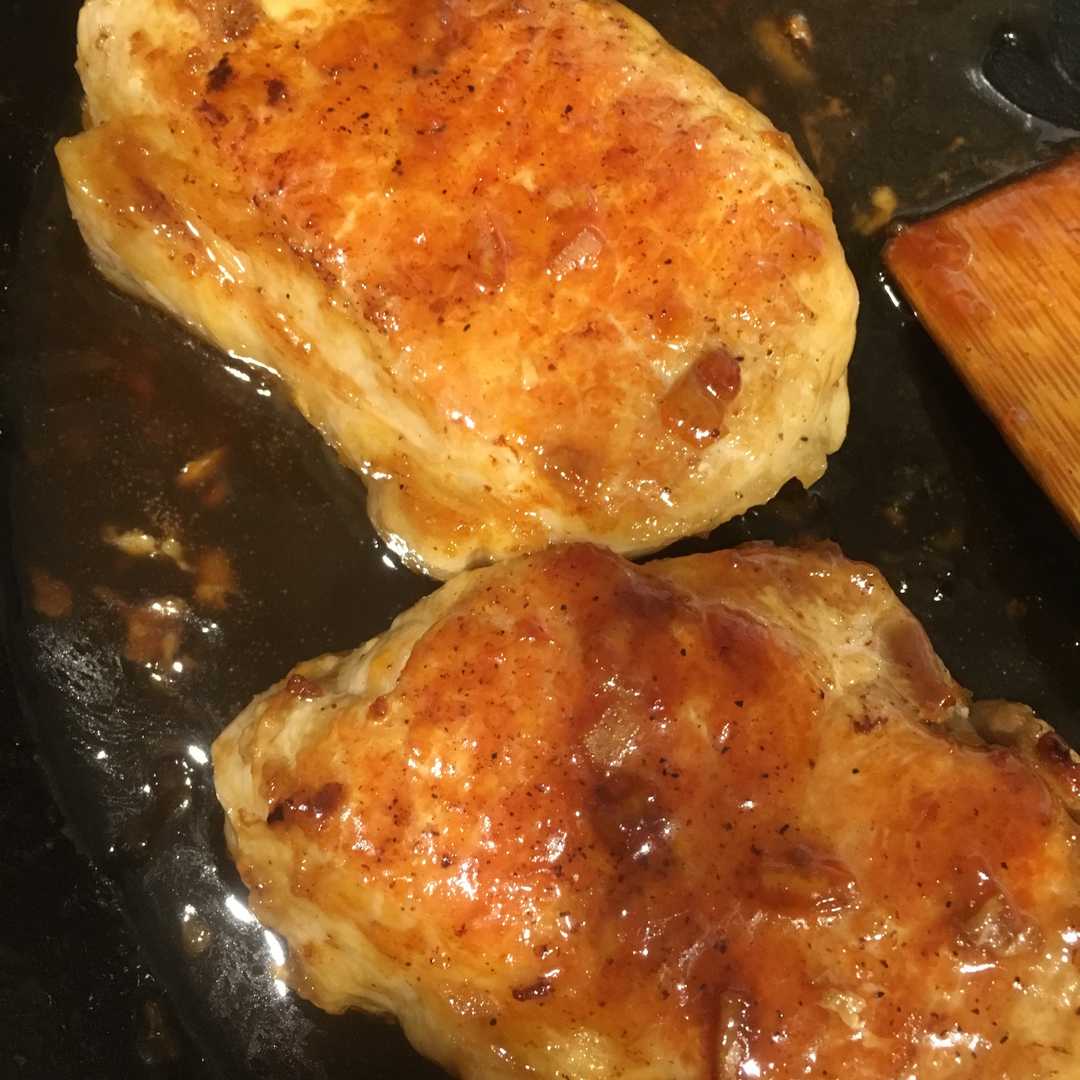 Double Orange Pork Chops
Pan fried pork chops in orange glaze.
| Servings | Prep Time | Cook Time |
| --- | --- | --- |
| 4 | 10 mins | 20 mins |
Directions
| | |
| --- | --- |
| 1. | In the small bowl, mix the marmalade and the orange juice. |
| 2. | Heat the butter and olive oil in a large skillet over medium heat. Season the pork chops with salt and pepper. Cook, turning once, until just cooked through, 6-8 minutes total. Transfer the chops to a platter and cover loosely with aluminum foil. |
| 3. | Pour off all but 3 tablespoons of drippings from the skillet and add the orange juice mixture. Raise the heat to medium-high and stir, scraping up the brown bits on the bottom of the pan, until the sauce is reduced and slightly syrupy 6-8 minutes. Return the pork chops to the pan, reduce the heat to medium, and cook, turning the pork chops a few times in the sauce. |
| 4. | Drizzle the pork chops with some of the sauce and pass the remaining sauce in a bowl. |
Nutrition summary
There are 567 calories in 1 serving of Double Orange Pork Chops.
Calorie split: 44% fat, 17% carbs, 39% protein.
Nutrition Facts
Amount Per Serving
Calories
566
% Daily Values*
Total Fat
27.04g
35%
Saturated Fat
11.055g
55%
Trans Fat
0.17g
Polyunsaturated Fat
1.496g
Monounsaturated Fat
10.606g
Cholesterol
168mg
56%
Sodium
456mg
20%
Total Carbohydrate
23.57g
9%
Dietary Fiber
0g
0%
Sugars
21.26g
Protein
55.06g
Vitamin D
-
Calcium
23mg
2%
Iron
1.48mg
8%
Potassium
1274mg
27%
Vitamin A
78mcg
9%
Vitamin C
0mg
0%
Related Recipe Collections
Related Recipes
Baked Pork Chops II
Delicious baked pork chops that amazingly tastes more like fried.
Per serve - Energy: 610kcal | Carb: 0.38g | Prot: 26.38g | Fat: 56.26g
Pork Chops Dijon
Quick, easy to make pork chops that are really yummy.
Per serve - Energy: 257kcal | Carb: 3.21g | Prot: 24.71g | Fat: 15.77g
Parmesan Crusted Pork Chops
Pork chops with a flavorful parmesan coating.
Per serve - Energy: 417kcal | Carb: 2.23g | Prot: 58.73g | Fat: 17.84g
Baked Pork Chops
Spicy and full of flavor, these pork chops are just delicious.
Per serve - Energy: 234kcal | Carb: 12.81g | Prot: 30.03g | Fat: 6.37g
Spicy Pork Chops
Using cayenne pepper and paprika, these pork chops are a tasty treat.
Per serve - Energy: 395kcal | Carb: 1.94g | Prot: 49.92g | Fat: 19.62g
Smothered Pork Chops
Fried pork chops covered with pepper gravy.
Per serve - Energy: 208kcal | Carb: 10.48g | Prot: 29.66g | Fat: 4.38g