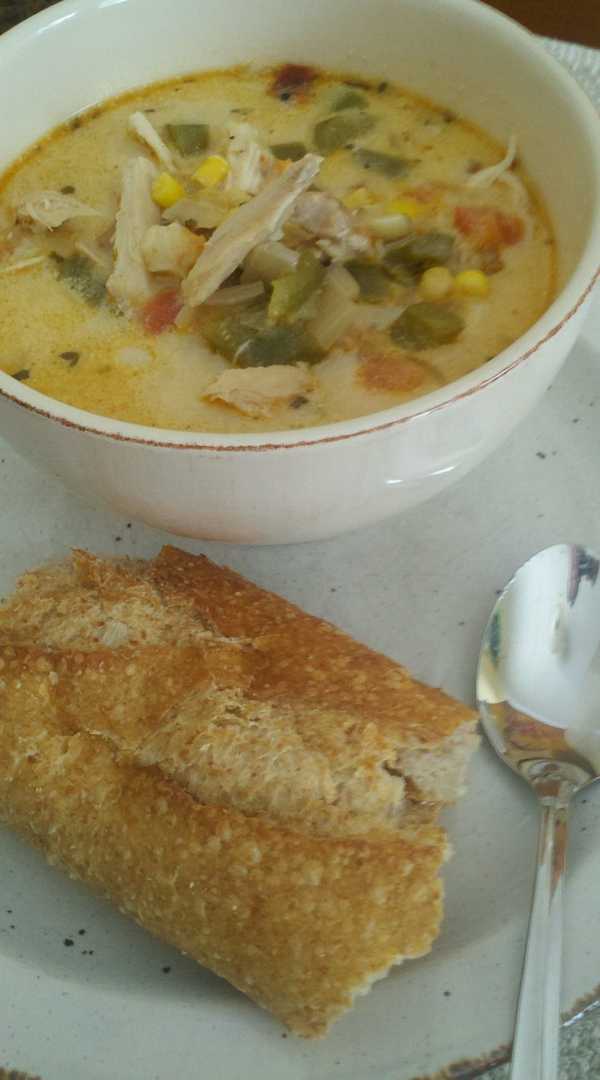 Creamy Adobo Chicken Soup
Just a touch of cream makes this a luscious meal with bread and a salad.
| Servings | Prep Time | Cook Time |
| --- | --- | --- |
| 8 | 20 mins | 45 mins |
Directions
| | |
| --- | --- |
| 1. | Remove 3-4 chiles and 2 tablespoons of adobo sauce from can; reserve remaining chiles and sauce for another use. Finely chop chile; set chile and sauce aside separately. |
| 2. | Heat oil over medium heat in a heavy-bottomed pot or dutch oven; brown the chicken pieces in batches (quartered chicken approx 3 lbs) and set aside. |
| 3. | Add onions, garlic and the red, green and jalapenos peppers and sauté until vegetables are soft and begin to brown, about 10 minutes. |
| 4. | Add tomatoes, chipotle peppers, chili powder, cumin, oregano, cayenne, paprika, Stir to combine, then add chicken broth (or you can substitute water). Return all chicken pieces in the pot. |
| 5. | Bring to a boil, then reduce heat to maintain a gentle simmer; cover with lid slightly askew and cook for approximately 30 minutes more or until the chicken is cooked through. Remove from heat. |
| 6. | Remove chicken from pot, pull meat from the bones and shred; return shredded chicken meat to the pot, discarding skin and bones. (Soup can be cooled and refrigerated at this point. Excess fat will congeal on top and can be removed before reheating.) |
| 7. | Add canned hominy and corn and return to a simmer for 5 – 10 minutes. (Note you can also add a can of yellow potatoes if you want this to be more "chowder" like). Add salt and pepper to taste. |
| 8. | Add cream (this can be omitted if you want a lower calorie count) and allow to warm for 5 additional minutes. Serve with crusty bread. |
Nutrition summary
There are 458 calories in 1 serving of Creamy Adobo Chicken Soup.
Calorie split: 39% fat, 21% carbs, 40% protein.
Nutrition Facts
Amount Per Serving
Calories
458
% Daily Values*
Total Fat
19.93g
26%
Saturated Fat
6.134g
31%
Trans Fat
0g
Polyunsaturated Fat
4.281g
Monounsaturated Fat
7.528g
Cholesterol
142mg
47%
Sodium
1632mg
71%
Total Carbohydrate
24.2g
9%
Dietary Fiber
4.4g
16%
Sugars
5.65g
Protein
45.77g
Vitamin D
-
Calcium
87mg
7%
Iron
3.3mg
18%
Potassium
720mg
15%
Vitamin A
136mcg
15%
Vitamin C
65.8mg
73%
Related Recipe Collections
Related Recipes
Chicken & Dumplings
This is more of a loose soup than your mama's C&D, but it's super high protein, very low fat, and medium carb. And it's pretty darn tasty.
Per serve - Energy: 404kcal | Carb: 32.74g | Prot: 53.58g | Fat: 7.77g
Chicken and Sweetcorn Soup
The whole family will love this delicious hearty soup.
Per serve - Energy: 382kcal | Carb: 63.28g | Prot: 20.49g | Fat: 7.01g
Mexican Chicken Soup
Super fast and delicious spicy Mexican soup.
Per serve - Energy: 279kcal | Carb: 12.46g | Prot: 42.76g | Fat: 6.23g
Beef and Bean Chili
Chili with beans, diced tomatoes and green chilies that's a little spicy, but not too bad.
Per serve - Energy: 429kcal | Carb: 21.51g | Prot: 55.04g | Fat: 12.68g
Meatball Soup
This soup beefs up the health by using chicken with lean beef to lower the fat.
Per serve - Energy: 154kcal | Carb: 18.60g | Prot: 15.26g | Fat: 3.00g