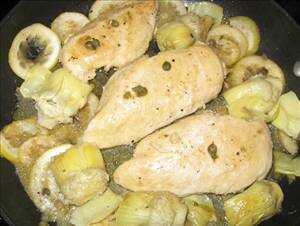 Chicken with Artichokes and Melted Lemons
Delicious glazed chicken matched perfectly with artichokes in a lemony sauce.
| Servings | Prep Time | Cook Time |
| --- | --- | --- |
| 4 | 5 mins | 35 mins |
Directions
| | |
| --- | --- |
| 1. | Heat olive oil in an 8" skillet over medium-high heat. When the olive oil is heated, swirl it to cover the bottom of pan. |
| 2. | Add the chicken breasts and sear them until browned. Turn the chicken, and brown them on the other side. Remove the chicken breasts to a plate and increase the heat to high. |
| 3. | Deglaze the pan with the lemon juice, scraping up and browned bits into the sauce. |
| 4. | Add the stock and bring to a simmer. Add the lemon slices to the pan, reduce the heat to medium, and place the chicken breasts on top of the lemon slices. |
| 5. | Add the capers, cover, reduce the heat to medium, and cook, covered, for 10 minutes. Remove the lid and add the artichoke hearts. Cover and continue cooking for 5 minutes, or until the breasts are cooked through. |
| 6. | Remove the chicken to a warm plate. Increase the temperature and reduce the sauce to a glaze. Taste the sauce and adjust the seasoning with salt and pepper as needed. A little salt will reduce the acidity of the lemons and balance the flavors. |
| 7. | Serve the chicken with the artichoke hearts, capers, and melted lemons drizzled with the glaze. |
| 8. | Note: based on recipe from the Best Life Diet. |
Nutrition summary
There are 208 calories in 1 serving of Chicken with Artichokes and Melted Lemons.
Calorie split: 17% fat, 27% carbs, 56% protein.
Nutrition Facts
Amount Per Serving
Calories
208
% Daily Values*
Total Fat
4.19g
5%
Saturated Fat
0.822g
4%
Trans Fat
0.028g
Polyunsaturated Fat
0.712g
Monounsaturated Fat
2.116g
Cholesterol
66mg
22%
Sodium
348mg
15%
Total Carbohydrate
15.1g
5%
Dietary Fiber
6.8g
24%
Sugars
0.36g
Protein
30.8g
Vitamin D
-
Calcium
77mg
6%
Iron
2.47mg
14%
Potassium
751mg
16%
Vitamin A
16mcg
2%
Vitamin C
39.3mg
44%
Related Recipe Collections
Related Recipes
Chicken Stir Fry
Chicken, carrots, mushrooms and broccoli in a spicy sauce.
Per serve - Energy: 306kcal | Carb: 39.22g | Prot: 20.00g | Fat: 8.51g
Spicy Thai Peanut Chicken over Rice
This is a very tasty Asian-inspired dish made with chicken and broccoli in a spicy peanut sauce.
Per serve - Energy: 261kcal | Carb: 23.41g | Prot: 22.00g | Fat: 9.73g
Easy Chicken Noodle Soup
An easy soup to warm your tummy.
Per serve - Energy: 261kcal | Carb: 44.29g | Prot: 13.12g | Fat: 2.89g
Chicken Chardon
A low carb chicken recipe.
Per serve - Energy: 448kcal | Carb: 4.75g | Prot: 38.56g | Fat: 31.79g