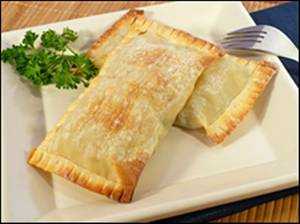 Chicken Pot Pockets
Pockets are the new pies, spread the word.
| Servings | Prep Time | Cook Time |
| --- | --- | --- |
| 12 | 20 mins | 20 mins |
Directions
| | |
| --- | --- |
| 1. | Pre-heat oven to 350 °F (175 °C). |
| 2. | In a small dish, mix cornstarch thoroughly with 1 tsp. cold water. In a large bowl, combine cornstarch mixture with soup, and mix thoroughly. |
| 3. | Add vegetables and chicken, mix well, and then season to taste with salt and pepper, if you like. This is your filling. Set aside. |
| 4. | On a large dry surface, lay out three egg roll wrappers. Set out a small dish of water, dip your finger into it, and then run your finger along all of the wrapper edges - repeat as needed while preparing your pockets, as it will help keep them sealed. |
| 5. | Starting about 1/2" from the bottom, place 2 - 3 tablespoons of filling along the bottom half of each wrapper, leaving a 1/2" border on both sides. Salt and pepper to taste. |
| 6. | Fold the top half of each wrapper over, so that the top edge meets the bottom -the mixture should be completely encased with a 1/2" border on three sides. Dab each border with water, and fold each inward about 1/4" to lightly seal all sides. Press firmly along the borders with the prongs of a fork to seal completely. |
| 7. | Line a large baking pan with foil and/or spray with nonstick spray. Using a large spatula, carefully transfer the pockets to the baking pan. Repeat the entire process 3 more times, so that you have 12 pockets on the baking sheet. If needed, prepare and use an additional baking sheet. |
| 8. | Bake in the oven for 20 minutes. Allow to cool for 5 minutes before serving. |
Nutrition summary
There are 129 calories in 1 serving of Chicken Pot Pockets.
Calorie split: 7% fat, 76% carbs, 17% protein.
Nutrition Facts
Amount Per Serving
Calories
129
% Daily Values*
Total Fat
1.01g
1%
Saturated Fat
0.234g
1%
Trans Fat
-
Polyunsaturated Fat
0.284g
Monounsaturated Fat
0.123g
Cholesterol
7mg
2%
Sodium
276mg
12%
Total Carbohydrate
24.54g
9%
Dietary Fiber
1.6g
6%
Sugars
0.08g
Protein
5.35g
Vitamin D
-
Calcium
22mg
2%
Iron
1.36mg
8%
Potassium
88mg
2%
Vitamin A
62mcg
7%
Vitamin C
2.5mg
3%
Related Recipe Collections
Related Recipes
Keto Chicken Nuggets
A crispy and tender finger food without added sugar.
Per serve - Energy: 222kcal | Carb: 8.30g | Prot: 27.37g | Fat: 9.56g
Sautéed Bitter Melon
A quick and tasty Filipino dish that is usually served with rice.
Per serve - Energy: 283kcal | Carb: 7.78g | Prot: 35.55g | Fat: 11.44g
Chicken and Mushroom Pasta
A creamy, low-sugar dish that is ready in 30 minutes.
Per serve - Energy: 350kcal | Carb: 29.85g | Prot: 34.14g | Fat: 11.14g
Chicken Stir Fry
Chicken, carrots, mushrooms and broccoli in a spicy sauce.
Per serve - Energy: 306kcal | Carb: 39.22g | Prot: 20.00g | Fat: 8.51g
Chicken Tortellini Soup
A creamy, bursting-with-flavor dish for weeknight dinner.
Per serve - Energy: 312kcal | Carb: 26.14g | Prot: 30.74g | Fat: 10.49g
Chicken Cordon Bleu Casserole
Just like the real thing only creamier and not fried.
Per serve - Energy: 216kcal | Carb: 6.50g | Prot: 19.39g | Fat: 12.44g