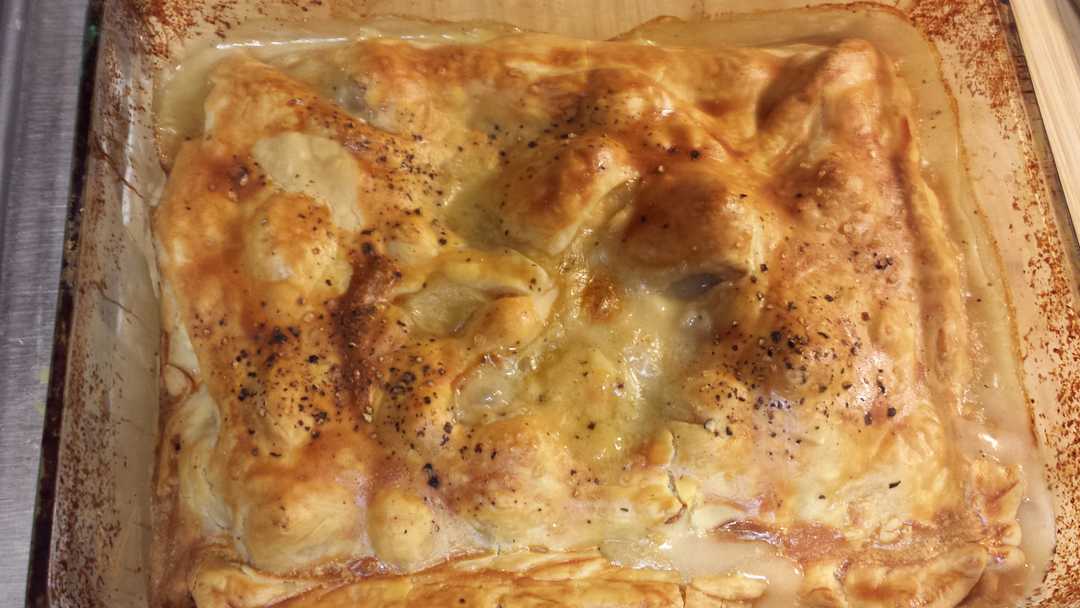 Chicken Pot Pie
Homemade pot pie, perfect for wintery Sunday afternoons.
| Servings | Prep Time | Cook Time |
| --- | --- | --- |
| 8 | 45 mins | 2 hrs |
Directions
| | |
| --- | --- |
| 1. | Preheat broiler to 425 °F (220 °C). |
| 2. | Peel and cube potatoes. Cut carrots into bite-size chunks. In a large bowl, toss potatoes and carrots with 1 tablespoon of the olive oil. Season lightly with salt and black pepper. Spread onto a baking sheet in a single layer. Broil until veggies are lightly roasted and just becoming tender, about 20 minutes. Stir once about about half-way through baking time. Remove from oven and set aside. Turn broiler off and set oven on at 400° F (200° C). |
| 3. | Dice onion. Coarsely chop celery and mushrooms. Preheat a large, heavy skillet with remaining olive oil. Saute onion in oil until translucent. Add in celery and mushrooms. Continue sauteing until celery is tender and onions have just started to brown on the edges. |
| 4. | Cut up chicken into bite-sized cubes. Add chicken to the skillet a few pieces at a time to avoid cooling the skillet too much. Brown chicken in the onion mixture until fully cooked. Flash the skillet with white wine. Remove from heat and set aside. |
| 5. | In a small, heavy saucepan, melt butter over medium heat. When butter begins to foam, whisk in flour. Whisk constantly until mixture becomes smooth and starts to bubble. Slowly add chicken stock and milk, whisking as you add. Add celery seed. Bring mixture to a boil, whisking constantly, and cook until sauce thickens. Remove from heat. Season to taste with salt and black pepper. |
| 6. | In a large bowl, combine roasted vegetables, chicken mixture, and sauce. In a pie pan or casserole, place one pie crust in the bottom. Fill the crust with the chicken filling. Place second pie crust on top. Pinch the edges of the pie crusts together all the way around. Cut 4 1" slits in the top crust for steam. Bake until top crust is golden brown, about 1 hour. |
| 7. | Note: for a crispier crust, brush egg beaters over top of crust before baking. Lightly salt the top crust. |
Nutrition summary
There are 483 calories in 1 serving of Chicken Pot Pie.
Calorie split: 46% fat, 32% carbs, 22% protein.
Nutrition Facts
Amount Per Serving
Calories
483
% Daily Values*
Total Fat
24.46g
31%
Saturated Fat
6.83g
34%
Trans Fat
0.018g
Polyunsaturated Fat
5.211g
Monounsaturated Fat
10.942g
Cholesterol
60mg
20%
Sodium
576mg
25%
Total Carbohydrate
38.85g
14%
Dietary Fiber
3.8g
13%
Sugars
2.98g
Protein
25.88g
Vitamin D
0mcg
1%
Calcium
68mg
5%
Iron
2.83mg
16%
Potassium
393mg
8%
Vitamin A
242mcg
27%
Vitamin C
10.6mg
12%
Related Recipe Collections
Related Recipes
Chicken Salad
Tasty, high-protein dish.
Per serve - Energy: 427kcal | Carb: 4.62g | Prot: 46.23g | Fat: 23.95g
Okroshka
A refreshing, cold soup for summer.
Per serve - Energy: 221kcal | Carb: 15.41g | Prot: 14.14g | Fat: 11.59g
Buffalo Chicken Flatbread
Tasty flatbread for lunch or dinner.
Per serve - Energy: 470kcal | Carb: 44.15g | Prot: 41.13g | Fat: 12.80g
Chicken Gnocchi Soup
Creamy and savory dish that will make you feel full.
Per serve - Energy: 440kcal | Carb: 27.11g | Prot: 19.62g | Fat: 29.22g
Chicken Fried Rice
A satisfying dish for lunch.
Per serve - Energy: 575kcal | Carb: 86.52g | Prot: 27.31g | Fat: 12.06g