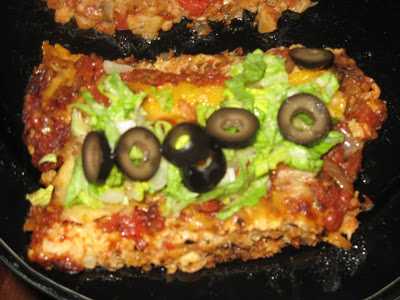 Low-carb enchiladas.
| Servings | Prep Time | Cook Time |
| --- | --- | --- |
| 6 | 3 mins | 20 mins |
Directions
| | |
| --- | --- |
| 1. | Enchiladas: mix cauliflower, eggs and mozzarella cheese. On 2 greased cookie sheets, drop dough by scant 1/3 cup, to form 12 6" rounds. Bake one pan at a time for 12-14 minutes or until edges have browned slightly and crust has slightly golden hue. Let cool on pan. Once shells have cooled, carefully loosen them from the pan and let set. |
| 2. | Preheat oven to 350 °F (175 °C). |
| 3. | Enchilada sauce: cook and stir onion, garlic and chili powder in oil in a pan on the stove over medium heat, until onion is tender, about 5 minutes. Add oregano, cumin, salt, pepper and tomato sauce. Stir until sauce is heated. Mix cheeses in separate bowl. |
| 4. | Take each shell and dip into heated enchilada sauce and then place golden-side up into an ungreased 9X13" casserole pan. Add 1/4 cup cheese in each shell. Roll and place seam-side down in pan until all shells have been used. Top with remaining enchilada sauce and cheese. Bake for 20 minutes, or until cheese is bubbly and golden. |
| 5. | Pour remaining tomato mixture over enchiladas, and top with the rest of the cheese. Bake uncovered for 20 minutes, or until cheese is melted. |
| 6. | Optional: top with shredded lettuce, olives and chopped, fresh tomato. |
Nutrition summary
There are 518 calories in 1 serving of Cheesy Enchiladas.
Calorie split: 67% fat, 6% carbs, 27% protein.
Nutrition Facts
Amount Per Serving
Calories
518
% Daily Values*
Total Fat
38.36g
49%
Saturated Fat
16.05g
80%
Trans Fat
0g
Polyunsaturated Fat
1.388g
Monounsaturated Fat
7.534g
Cholesterol
192mg
64%
Sodium
1557mg
68%
Total Carbohydrate
8.28g
3%
Dietary Fiber
3.3g
12%
Sugars
4.55g
Protein
34.16g
Vitamin D
-
Calcium
32mg
2%
Iron
0.96mg
5%
Potassium
185mg
4%
Vitamin A
36mcg
4%
Vitamin C
37.2mg
41%
Related Recipe Collections
Related Recipes
Arugula Skirt Steak Salad
A salad of arugula steak and red onion.
Per serve - Energy: 468kcal | Carb: 12.36g | Prot: 30.44g | Fat: 32.64g
Quick Quiche
No crust quiche.
Per serve - Energy: 237kcal | Carb: 12.07g | Prot: 14.47g | Fat: 13.95g
Crustless Quiche Muffins
Made with sliced ham or turkey as the crust. Meat and veggies can be exchanged as desired and Tabasco can be hotter or not.
Per serve - Energy: 106kcal | Carb: 1.16g | Prot: 10.17g | Fat: 6.50g
Loaded Cauliflower
Low calorie loaded "potato".
Per serve - Energy: 197kcal | Carb: 12.96g | Prot: 11.44g | Fat: 12.48g
Cheeseburger Casserole III
Casserole that uses meat, bacon, eggs, heavy cream and of course cheese.
Per serve - Energy: 816kcal | Carb: 7.33g | Prot: 43.93g | Fat: 68.33g
Garlic Parmesan Cauliflower Rice
Cauliflower rice is cooked with a garlic butter sauce and Parmesan cheese for a low carb, gluten free, delicious and easy dish.
Per serve - Energy: 208kcal | Carb: 6.89g | Prot: 11.25g | Fat: 14.38g