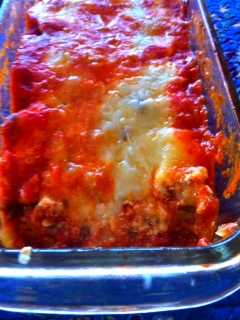 A low carb, no pasta lasagna.
| Servings | Prep Time | Cook Time |
| --- | --- | --- |
| 6 | 0 mins | 0 mins |
Directions
| | |
| --- | --- |
| 1. | Preheat oven to 350 °F (175 °C). Spray the inside of a glass bread pan (9x3") with non-stick spray. Mix prepared, grated cauliflower with one cup of the mozzarella cheese and the egg in a bowl. |
| 2. | Layer the bottom with 1/4 cup sauce. Distribute gently with a spoon. Do not add toppings yet. Layer with 1/2 of the cauliflower mix. Press down very gently with fingers after distributing evenly. |
| 3. | Layer with 1/2 of the ricotta by dotting it on in small piles and then spreading slightly. Add 1/2 of the remaining sauce. With a spoon, spread and slightly mix the two layers (ricotta and sauce) for better coverage. |
| 4. | Add half of the toppings you've prepared. (If there are none, proceed to the next step.) |
| 5. | Layer with 1/2 of the mozzarella cheese. Add the rest of the cauliflower mix and spread and press down gently (you can use your hands). Add the rest of the sauce. Add the rest of the toppings. (If there are none, proceed to the next step). |
| 6. | Add the rest of the ricotta and spread with a spoon as possible. It will be a little more bumpy, so no worries if the uniformity isn't there. Add the rest of the mozzarella cheese. |
| 7. | Bake in a 350 °F oven for 45 minutes, or until bubbly and the cheese is golden/brown. Let rest for 15 minutes before serving. |
| 8. | Note: can be stored in the refrigerator or frozen and reheated. Serves 6-8. Can be doubled. |
Nutrition summary
There are 182 calories in 1 serving of Cauliflower Lasagna.
Calorie split: 58% fat, 10% carbs, 31% protein.
Nutrition Facts
Amount Per Serving
Calories
182
% Daily Values*
Total Fat
11.85g
15%
Saturated Fat
6.474g
32%
Trans Fat
0.12g
Polyunsaturated Fat
0.535g
Monounsaturated Fat
3.763g
Cholesterol
80mg
27%
Sodium
385mg
17%
Total Carbohydrate
4.68g
2%
Dietary Fiber
1g
4%
Sugars
2.24g
Protein
14.3g
Vitamin D
0mcg
0%
Calcium
202mg
16%
Iron
1.22mg
7%
Potassium
262mg
6%
Vitamin A
92mcg
10%
Vitamin C
13.7mg
15%
Related Recipe Collections
Related Recipes
Arugula Skirt Steak Salad
A salad of arugula steak and red onion.
Per serve - Energy: 468kcal | Carb: 12.36g | Prot: 30.44g | Fat: 32.64g
Italian Cabbage
A great side dish or lunch option.
Per serve - Energy: 218kcal | Carb: 11.30g | Prot: 12.05g | Fat: 13.16g
"Mac" & Cheese
Cauliflower mac and cheese.
Per serve - Energy: 383kcal | Carb: 10.98g | Prot: 17.66g | Fat: 31.14g
Cauliflower with Dijon Sauce
Quick cauliflower side done in the microwave.
Per serve - Energy: 290kcal | Carb: 20.61g | Prot: 12.16g | Fat: 19.60g
Cauliflower Ceviche
A vegetarian ceviche that is easy to make.
Per serve - Energy: 132kcal | Carb: 8.77g | Prot: 2.52g | Fat: 10.86g
Garlic Parmesan Cauliflower Rice
Cauliflower rice is cooked with a garlic butter sauce and Parmesan cheese for a low carb, gluten free, delicious and easy dish.
Per serve - Energy: 208kcal | Carb: 6.89g | Prot: 11.25g | Fat: 14.38g