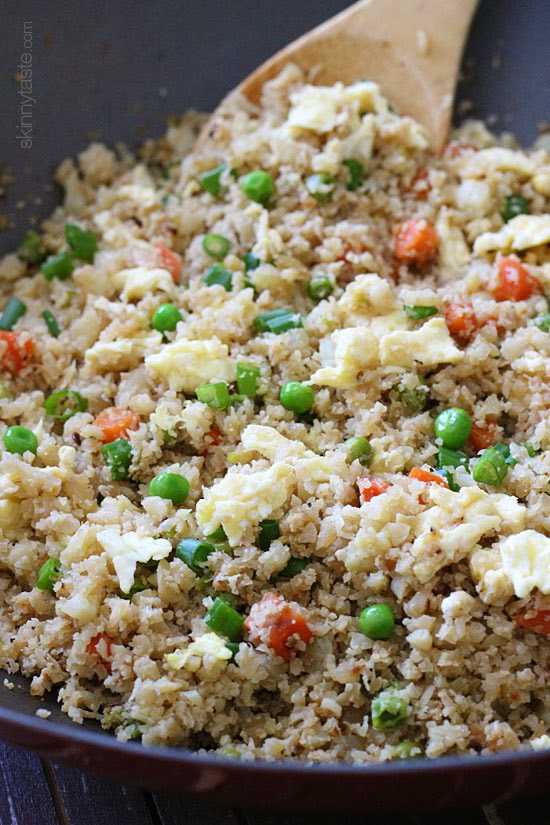 Cauliflower Fried Rice
A lower carb fried rice option.
| Servings | Prep Time | Cook Time |
| --- | --- | --- |
| 4 | 5 mins | 20 mins |
Directions
| | |
| --- | --- |
| 1. | Remove the core and let the cauliflower dry completely. Coarsely chop into florets, then place half of the cauliflower in a food processor and pulse until the cauliflower is small and has the texture of rice or couscous (don't over process or it will get mushy). Set aside and repeat with the remaining cauliflower. |
| 2. | Combine egg and egg whites in a small bowl and beat with a fork. Season with salt. |
| 3. | Heat a large saute pan or wok over medium heat and spray with oil. Add the eggs and cook, turning a few times until set. Set aside. |
| 4. | Mince garlic and dice onion fine. Dice scallion, green and whites, separated. |
| 5. | Add the sesame oil and saute onions, scallion whites, peas and carrots and garlic about 3-4 minutes, or until soft. |
| 6. | Raise the heat to medium-high. Add the cauliflower "rice" to the saute pan along with soy sauce. Mix, cover and cook approximately 5-6 minutes, stirring frequently, until the cauliflower is slightly crispy on the outside but tender on the inside. |
| 7. | Add the egg. Remove from heat and mix in scallion greens. |
Nutrition summary
There are 136 calories in 1 serving of Cauliflower Fried Rice.
Calorie split: 33% fat, 45% carbs, 23% protein.
Nutrition Facts
Amount Per Serving
Calories
136
% Daily Values*
Total Fat
5.44g
7%
Saturated Fat
1.037g
5%
Trans Fat
0g
Polyunsaturated Fat
1.951g
Monounsaturated Fat
2.086g
Cholesterol
53mg
18%
Sodium
623mg
27%
Total Carbohydrate
16.73g
6%
Dietary Fiber
5.4g
19%
Sugars
6.73g
Protein
8.48g
Vitamin D
0mcg
0%
Calcium
76mg
6%
Iron
1.65mg
9%
Potassium
640mg
14%
Vitamin A
194mcg
22%
Vitamin C
77mg
86%
Related Recipe Collections
Related Recipes
Vegetarian Stuffed Peppers
Recipe inspired by 'Homemade in the Kitchen'.
Per serve - Energy: 388kcal | Carb: 53.59g | Prot: 13.66g | Fat: 14.68g
Lentil Bolognese
A high fiber, vegan, and vegetarian alternative to bolognese. Serve with brown pasta and a side of salad for a balanced meal. NOTE: Use 2 x 14 oz cans of lentils, rinsed and drained to obtain a total of roughly 2.5 cups of lentils. Store leftover bolognese in the freezer for a quick and easy meal.
Per serve - Energy: 288kcal | Carb: 44.13g | Prot: 15.70g | Fat: 8.00g
Bang Bang Shrimp Salad
Delicious and hearty dish.
Per serve - Energy: 305kcal | Carb: 24.43g | Prot: 39.01g | Fat: 6.59g
Cold Quinoa Salad
A satisfying dish with low sugar content.
Per serve - Energy: 326kcal | Carb: 48.59g | Prot: 9.13g | Fat: 11.68g
Chicken Fried Rice
A satisfying dish for lunch.
Per serve - Energy: 575kcal | Carb: 86.52g | Prot: 27.31g | Fat: 12.06g