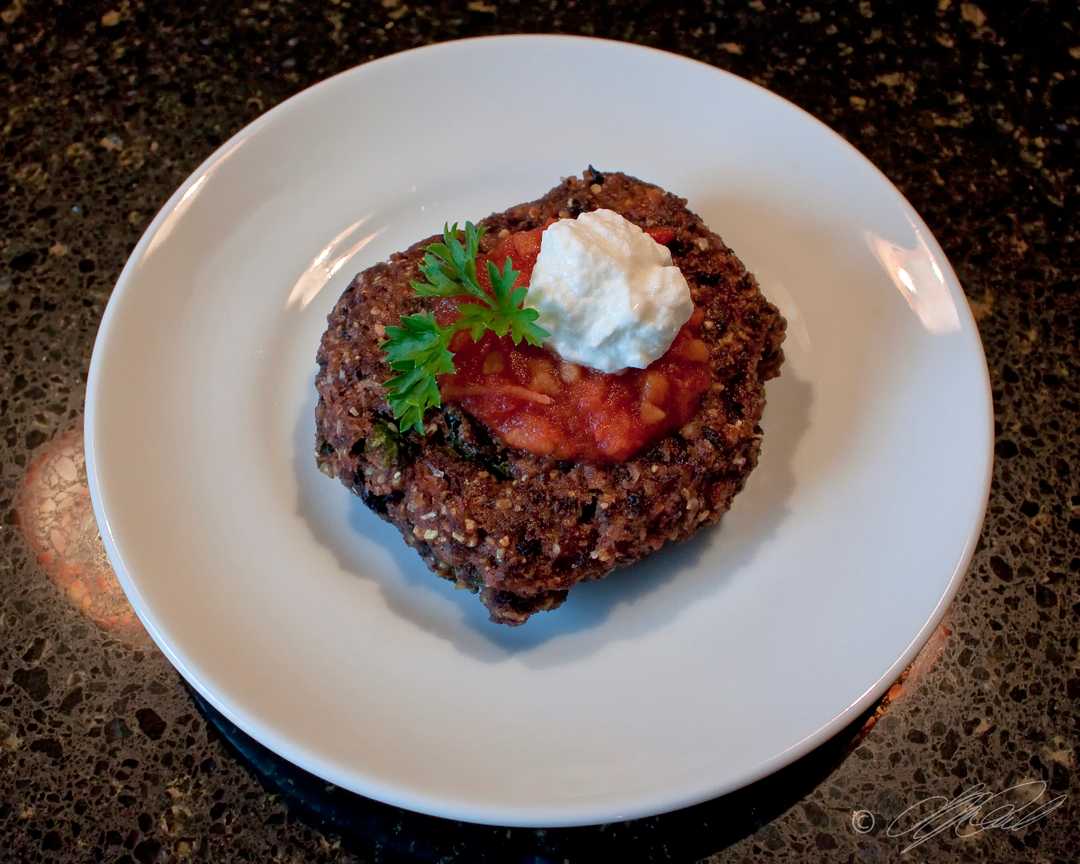 Savory bean croquettes with black beans and corn meal makes a perfect entree for vegetarian dieters.
| Servings | Prep Time | Cook Time |
| --- | --- | --- |
| 4 | 5 mins | 20 mins |
Directions
| | |
| --- | --- |
| 1. | Mash beans but don't puree so as to have a few bean chunks for texture. Use a little bean liquid or water if beans are too dry to mash. |
| 2. | Combine the beans, onion, cilantro, egg and sprinkle with salt and pepper. |
| 3. | Add cornmeal by the tablespoon until its made a batter that is barely stiff enough to handle. (You should be able to shape it with your hands without it sticking, but it should be quite fragile or the cakes will be dry.) |
| 4. | Add corn oil to a large, deep skillet and turn flame on medium. Shape the bean mixture into patties 2 to 3 inches across or into 1 ½ x 3 inch logs. |
| 5. | When the oil is hot, place them in the skillet. Don't crowd them; you may have to work in batches. |
| 6. | Cook the croquettes until nicely browned on all sides, adjusting the heat so they brown evenly without burning before turning, 7 or 8 minutes total. Keep warm in the oven or under aluminum foil until ready to serve, or serve at room temperature. |
| 7. | Garnish with salsa, fat-free sour cream and fresh cilantro sprigs, if desired. Brown rice with roasted or fresh corn make a nice accompaniment. |
| 8. | Note: as variations, you may add any of the following alone or together for extra zing in the batter: a dash of cumin, minced jalapeno, fresh chile, hot sauce or fresh squeezed lemon juice. |
Nutrition summary
There are 322 calories in 1 serving of Black Bean Croquettes with Cornmeal.
Calorie split: 43% fat, 44% carbs, 13% protein.
Nutrition Facts
Amount Per Serving
Calories
322
% Daily Values*
Total Fat
15.78g
20%
Saturated Fat
2.325g
12%
Trans Fat
0g
Polyunsaturated Fat
8.032g
Monounsaturated Fat
4.413g
Cholesterol
54mg
18%
Sodium
557mg
24%
Total Carbohydrate
35.58g
13%
Dietary Fiber
9.8g
35%
Sugars
1.88g
Protein
10.6g
Vitamin D
-
Calcium
59mg
5%
Iron
3.18mg
18%
Potassium
118mg
3%
Vitamin A
32mcg
4%
Vitamin C
8.8mg
10%
Related Recipe Collections
Related Recipes
Paella with Lentils
A delicious paella with lentils and shrimp.
Per serve - Energy: 346kcal | Carb: 57.50g | Prot: 21.81g | Fat: 2.18g
Whole Wheat Italian Pizza
A healthy take on the classic pizza without sacrificing taste.
Per serve - Energy: 377kcal | Carb: 48.84g | Prot: 20.02g | Fat: 13.11g
Chicken Ratatouille
Served over rice, this delicious dish is loaded with vegetables and skinless chicken breasts.
Per serve - Energy: 396kcal | Carb: 22.89g | Prot: 60.98g | Fat: 7.45g
Chinese Cabbage Rolls
Yummy stir fry veggies and rice rolled up in a tender cabbage leaf!
Per serve - Energy: 344kcal | Carb: 76.46g | Prot: 9.34g | Fat: 2.24g
Chicken Chili Stew
A yummy, low-fat stew that'll keep you full and satisfied.
Per serve - Energy: 380kcal | Carb: 33.75g | Prot: 28.36g | Fat: 15.83g