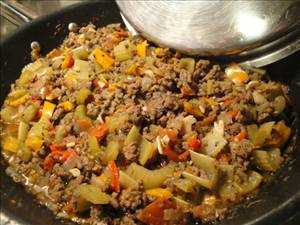 Beef with Chili and Vegetables
One skillet dinner of lean ground beef with colorful low glycemic veggies and chili provides taste without all the fat and carbs.
| Servings | Prep Time | Cook Time |
| --- | --- | --- |
| 6 | 10 mins | 35 mins |
Directions
| | |
| --- | --- |
| 1. | Place the ground beef to brown in a large skillet on low to medium heat. Stir occasionally to break up and prevent burning. |
| 2. | Season to taste with your favorite seasoning such as season-all, adobo, or hickory salt and pepper. |
| 3. | While the meat is browning, cut up or chop vegetables into small bite size peices and set aside, except for the onion, in a large bowl. |
| 4. | Once the meat is browned, remove from the skillet, drain if necessary (although there should be minimal grease with the extra lean beef) and then place the chopped onion to sauté with a touch of olive oil on low heat. |
| 5. | Once tender, add garlic, pepper, and a few tablespoons of roasted chile and turn it up to medium heat to get everything sizzling. Then add in the rest of the vegetables, stir, cover and turn down to low and allow to simmer for about 5-10 minutes. |
| 6. | Finally, add the browned ground meat back into the skillet, stir, cover and cook on low for an additional 10-20 minutes, depending on how tender you like your celery. |
| 7. | Uncover, stir and enjoy! |
| 8. | Note: by itself, it's a wonderful healthy way to eat a lot of vegetables with your beef, thereby improving the glycemic load of your meal. It could also be served over rice or pasta if your diet allows the extra carbs. As a variation, substitute black or kidney beans for the meat or add beans to the recipe to take the anti-oxidant levels up a notch. |
Nutrition summary
There are 162 calories in 1 serving of Beef with Chili and Vegetables.
Calorie split: 31% fat, 25% carbs, 44% protein.
Nutrition Facts
Amount Per Serving
Calories
162
% Daily Values*
Total Fat
5.64g
7%
Saturated Fat
2.011g
10%
Trans Fat
0.255g
Polyunsaturated Fat
0.37g
Monounsaturated Fat
1.683g
Cholesterol
46mg
15%
Sodium
127mg
6%
Total Carbohydrate
10.24g
4%
Dietary Fiber
2.8g
10%
Sugars
4.8g
Protein
17.79g
Vitamin D
-
Calcium
49mg
4%
Iron
2.48mg
14%
Potassium
729mg
16%
Vitamin A
108mcg
12%
Vitamin C
116.6mg
130%
Related Recipe Collections
Related Recipes
Beef Panang Curry
A flavorful Asian dish perfect for dinner.
Per serve - Energy: 921kcal | Carb: 12.41g | Prot: 27.16g | Fat: 83.76g
Stir Fry Sirloin Steak
A low-cholesterol, meat dish that's easy to prepare.
Per serve - Energy: 115kcal | Carb: 10.45g | Prot: 6.15g | Fat: 6.22g
Lean Meatloaf
Use lean 93/7 hamburger mince.
Per serve - Energy: 206kcal | Carb: 14.14g | Prot: 19.67g | Fat: 7.72g
Cheeseburger Casserole III
Casserole that uses meat, bacon, eggs, heavy cream and of course cheese.
Per serve - Energy: 816kcal | Carb: 7.33g | Prot: 43.93g | Fat: 68.33g
Taco Tuesday
Having a preschooler means taco Tuesdays are in demand.
Per serve - Energy: 688kcal | Carb: 73.53g | Prot: 32.42g | Fat: 31.34g