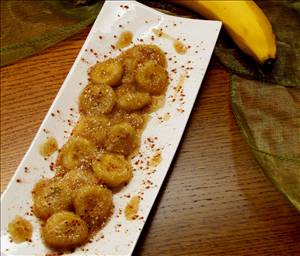 Bananas Foster
A healthy dessert treat.
Servings: 1
Prep Time: 5 mins
Cook Time: 10 mins
Average Rating:
Ingredients
Directions
Spray skillet with cooking spray like Pam.
Place diced bananas into skillet, sauté for approximately one minute.
Add a little Amaretto, don't worry too much about calories, because it burns off, but don't go overboard.
Sprinkle a little sweetener, (like Splenda) on top while cooking to caramelize the bananas.
Voila! All done. Pairs nicely over sugar-free, fat-free vanilla ice cream.
Nutrition summary
There are 176 calories in 1 serving of Bananas Foster.
Calorie split: 3% fat, 93% carbs, 4% protein.
Related Recipe Collections
Related Recipes
Vegan Smoothie
Nice and fruity vegan smoothie.
Per serve - Energy: 103kcal | Carb: 17.46g | Prot: 3.03g | Fat: 3.45g
Chewy Raisin Oatmeal Cookies
An old fashioned naturally sweetened cookie.
Per serve - Energy: 58kcal | Carb: 11.73g | Prot: 1.80g | Fat: 0.70g
Protein Cookies
Vegan protein cookies.
Per serve - Energy: 132kcal | Carb: 13.62g | Prot: 2.38g | Fat: 8.40g
Vanilla Banana Nice Cream
A tasty healthy dessert made from just bananas.
Per serve - Energy: 110kcal | Carb: 29.00g | Prot: 1.00g | Fat: 0.30g