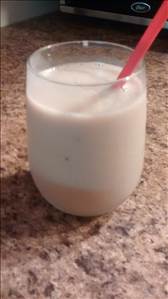 Banana Blast
Protein banana smoothie.
Servings: 2
Prep Time: 3 mins
Average Rating:
Ingredients
Directions
Place all ingredients in blender with a couple ice cubes. Blend until it's smooth.
Drink immediately or store in refrigerator. Drink within 48 hours or it will separate.
Nutrition summary
There are 199 calories in 1 serving of Banana Blast.
Calorie split: 9% fat, 62% carbs, 28% protein.
Related Recipe Collections
Related Recipes
Protein-Pack Oatmeal Cups
You can add chocolate chips or other toppings like nuts, blueberries, etc.
Per serve - Energy: 155kcal | Carb: 22.14g | Prot: 7.53g | Fat: 5.01g
Banana Strawberry Smoothie
Smoothie made from banana, strawberries, skim milk, ice and a pinch of artificial sweetener.
Per serve - Energy: 159kcal | Carb: 35.49g | Prot: 5.78g | Fat: 0.77g
Chocolate Strawberry Banana Smoothie
A yummy way to get in dairy and fruit . Good for those who can't seem to eat breakfast.
Per serve - Energy: 507kcal | Carb: 105.80g | Prot: 16.06g | Fat: 3.87g
Strawberry Banana Shake
Great morning starter that's nice and thick.
Per serve - Energy: 466kcal | Carb: 79.94g | Prot: 23.29g | Fat: 8.33g
Low Fat Yogurt with Banana
Sweet and wholesome. Works well for breakfast, dessert or as a sweet treat.
Per serve - Energy: 248kcal | Carb: 42.93g | Prot: 13.20g | Fat: 3.91g