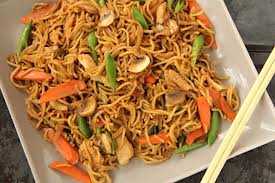 Baked Stir Fry
Typical stir fry recipe except baked to avoid the oil/fat needed to fry it.
| Servings | Prep Time | Cook Time |
| --- | --- | --- |
| 3 | 10 mins | 1 hr |
Directions
| | |
| --- | --- |
| 1. | Slice thin the chicken, zucchini, squash and mushrooms (the thinner you slice it the quicker it will cook). |
| 2. | Combine ingredients in a metal or glass pan large enough to hold them and allow for some stirring. Add Italian dressing and soy sauce. If the pan is rather large and the sauce isn't at least 1" deep you can add water as needed. Too much juice/water will make this dish soggy. |
| 3. | Bake at to 300 °F (205 °C) for about 45 minutes. At 45 minutes stir the ingredients around and add the noodles in a way that the remaining juice will reach them. If there is not enough juice you can add water as needed. |
| 4. | Once the noodles are done, remove and serve. |
| 5. | Note: You can add all kinds of vegetables to this dish like carrots, snow peas, water chestnuts etc. You can make it without the noodles for less calories and carbs however using the noodles eliminates the need for a side dish. You can change the meat to your favorite, cooking time should stay the same. |
Nutrition summary
There are 346 calories in 1 serving of Baked Stir Fry.
Calorie split: 17% fat, 46% carbs, 36% protein.
Nutrition Facts
Amount Per Serving
Calories
346
% Daily Values*
Total Fat
7.01g
9%
Saturated Fat
1.765g
9%
Trans Fat
0g
Polyunsaturated Fat
2.134g
Monounsaturated Fat
2.308g
Cholesterol
62mg
21%
Sodium
1323mg
58%
Total Carbohydrate
42.01g
15%
Dietary Fiber
8.4g
30%
Sugars
8.92g
Protein
32.96g
Vitamin D
-
Calcium
57mg
4%
Iron
2.22mg
12%
Potassium
893mg
19%
Vitamin A
46mcg
5%
Vitamin C
42.3mg
47%
Related Recipe Collections
Related Recipes
Chicken Fried Rice
A satisfying dish for lunch.
Per serve - Energy: 575kcal | Carb: 86.52g | Prot: 27.31g | Fat: 12.06g
Chicken Meatballs
Tasty, high-protein dish for lunch or dinner.
Per serve - Energy: 531kcal | Carb: 34.87g | Prot: 75.66g | Fat: 12.12g
Chicken and Mushroom Pasta
A creamy, low-sugar dish that is ready in 30 minutes.
Per serve - Energy: 350kcal | Carb: 29.85g | Prot: 34.14g | Fat: 11.14g
Chicken Tortellini Soup
A creamy, bursting-with-flavor dish for weeknight dinner.
Per serve - Energy: 312kcal | Carb: 26.14g | Prot: 30.74g | Fat: 10.49g