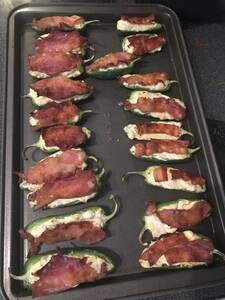 Bacon Jalapeño Poppers
Low carb snack.
Servings: 20
Prep Time: 20 mins
Cook Time: 17 mins
Ingredients
Directions
Preheat oven to 375 °F (175 °C).
Cut jalapeños in half. Remove seeds.
Soften cream cheese, add cheddar cheese and salsa verde. Stir.
Microwave bacon for approximately 3 minutes or 30 seconds per slice. Cut in half.
Stuff cream cheese mixture into peppers.
Top with half slice of bacon.
Bake 15 minutes
Broil for 2-3 more minutes.
Nutrition summary
There are 97 calories in 1 serving of Bacon Jalapeño Poppers.
Calorie split: 76% fat, 9% carbs, 15% protein.
Related Recipe Collections
Related Recipes
Jalapeno Poppers II
Stuffing something with cheese instantly makes it better. If you wrap it in bacon, UNSTOPPABLE.
Per serve - Energy: 66kcal | Carb: 0.81g | Prot: 3.18g | Fat: 5.66g
Bacon, Egg & Cheese Frittata
Easy peasy, delicious bacon, egg and cheese frittata.
Per serve - Energy: 302kcal | Carb: 13.89g | Prot: 28.35g | Fat: 14.95g
Chicken & Bacon Veggie Soup
A low carb soup with the deliciousness of chicken and bacon.
Per serve - Energy: 322kcal | Carb: 3.76g | Prot: 15.14g | Fat: 25.23g
Mock Potato Soup II
It looks like and tastes like potato soup, but it's cauliflower.
Per serve - Energy: 221kcal | Carb: 8.70g | Prot: 9.55g | Fat: 17.30g
Sausage Frittata II
A tasty hot sausage frittata, perfect for any time of the day.
Per serve - Energy: 270kcal | Carb: 1.79g | Prot: 14.60g | Fat: 21.88g