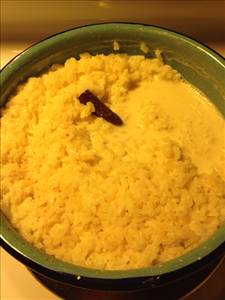 Arroz en Leche
White rice with milk.
Servings: 5
Prep Time: 2 mins
Cook Time: 30 mins
Average Rating:
Ingredients
Directions
Cook rice in water and cinnamon.
When soft add sweetened condensed milk.
Nutrition summary
There are 142 calories in 1 serving of Arroz en Leche.
Calorie split: 17% fat, 73% carbs, 9% protein.
Related Recipe Collections
Related Recipes
Quinoa Stuffed Bell Peppers
These stuffed bell peppers will provide the nutrition that you need for a healthy balanced meal.
Per serve - Energy: 242kcal | Carb: 38.66g | Prot: 10.66g | Fat: 6.46g
Spaghetti Squash Casserole
Low carb/keto meal using spaghetti squash.
Per serve - Energy: 504kcal | Carb: 13.15g | Prot: 33.20g | Fat: 34.33g
Balsamic & brown Sugar Pork Chops
Delicious, and quick way to prepare pork chops on a busy weeknight.
Per serve - Energy: 284kcal | Carb: 17.36g | Prot: 31.57g | Fat: 8.80g
Crustless Spinach Feta Quiche
Vegetarian, low carb, crustless spinach feta quiche.
Per serve - Energy: 224kcal | Carb: 9.00g | Prot: 16.50g | Fat: 13.03g
Boca Burger Taco
This vegetarian recipe makes a great alternative to a hamburger on a bun. The corn tortilla is much lower calorie than a bun, and the salsa gives it a fun kick.
Per serve - Energy: 175kcal | Carb: 16.45g | Prot: 16.70g | Fat: 6.01g
Cheesy Rice and Veggie Bake
A yummy casserole, that includes some grains, vegetables and dairy. Makes a great side for chicken or pork.
Per serve - Energy: 301kcal | Carb: 58.06g | Prot: 9.56g | Fat: 3.09g